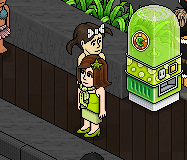 Royal Amelia Mavis Habbo or RoyalBlood1935, is an 18 year old daughter of Frank and the older sister of pd.rose.bq. She is intelligent with men because she wants to be beautiful than her sister, sometimes she gets mad in the wedding because she wants to be the priest by saying these horrible lines (e.g. I want you to smell my butt!) She like the colour pink, green and yellow.
Apperance
RoyalBlood1935 look similar as her sister but she has brown hair (blonde in earlier series) blue eyes ,light skin tone, lime green star hair clip, she wore a lime green vest and shoes she also wears a light green scarf and skirt.
As a VIP, she has black hair with a pink headband, tan skin tone and she wears a white dress top with a pink and white stripy jacket, Royal wore pink shorts with a belt and wore bare feet. She always work in Welcome Lounge with Frank and pd.rose.bq. She also works in Habboon Hotel.
Trivia