"OMG ELLIOT, WERE SO DONE WITH YOU WHY DON'T YOU JUST GO FUCK YOURSELF!!!"
Elliot's Fans in his Candy Tour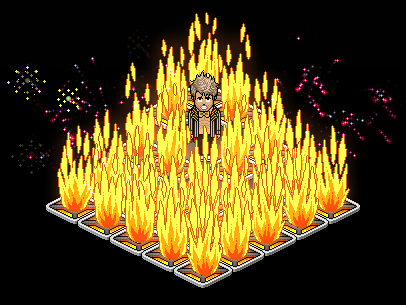 ElliotNicol is the most recent Custom to *****. He sings, dances, presentes and even produces.
Background Story
ElliotNicol started by playing Habbo in 2006 with his friends from High School. He then started to get interested in the media lifestyle and aspiring to be a journalists, when his passion for journalism and media went growing he wanted to be a television host/presenter which he still wants to be.
"Candy" - Album
ElliotNicol published on the 29th June 2013 a new album called "Candy", even though this name is sweet and presented positively the CD cover includes fire, darkness and fireworks.
Elliot in an interview with Glamag  said "The album is about being yourself and believing in who you are. Its easy to be weak in High School because the only thing you have is your identity. And don't let anyone ever define you... You define your own beauty, your fame, your fortune, your life."
Later, Elliot said "I don't wanna be an idol for them, I don't wanna be a king for them... I wanna be an inspiration for them, I wanna be their friend."
After the publication of some of his singles, Elliot had a lot of controversy about his singing and his songs, some people tweeting him saying that he only pitches the original song, but Elliot in response said "If you heard the Debut Concert, I was singing live, and you can see than because my mic went of during Marry the Night, and you can see that the vocals aren't perfect. The process we use to record my songs, is I record then we use autotune wich pitches my voice to the correct pitching of the instrumental then puts my voice in tune, making me sound a bit like the original singers."
The Candy Tour
The Candy Tour starts on the 5th of July and will be only 3 dates, on the 5th, 6th and 7th of July (dates and times will be mentioned below). The Tour will include a big production and good entertainment. Elliot has been rehearsing for this tour for a few weeks now and has been improving since then, said the tour managment team.
During each date the playlist differs and some songs might not be performed on different dates, however, Elliot would not leak the playlist due to it being secret.
The stages are giant and will have an amazing production, including lights, props and much more than that.
Date and times:
| Date | Time GMT (UK Time zone) | Time EDT | Time EST |
| --- | --- | --- | --- |
| 5th July, Friday | 21:00/9pm | 17:00/5pm | 16:00/4pm |
| 6th July, Saturday | 19:00/7pm | 15:00/3pm | 14:00/2pm |
| 7th July, Sunday | 17:00/5pm | 13:00/1pm | 12:00/Noon |